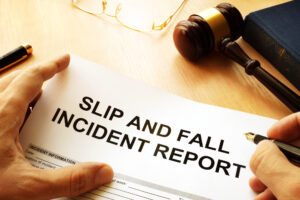 Are you wondering what you should do if you've been injured at work?
Employers have the responsibility to keep their workplaces safe for employees. Most take great measures to fix any potential hazards. Yet sometimes people slip and fall at work. If they're injured, they might require medical treatment and time away from their job.
A workplace slip and fall can end up getting expensive. If you've been the victim of a slip and fall case, you should know that you're entitled to compensation for your injuries. Still, this requires you to take several steps first. Keep reading so you know how to respond to a slip and fall claim!
Assess Your Injuries
Right after the incident, you should assess your injuries. Feel for any broken bones and check for profuse bleeding. If you can't get up or have severe injuries, call 911 or have someone do it for you.
If someone else was involved in the incident, make sure they're okay before you take any further action.
Even if you're not urgently injured, you should seek medical attention as soon as possible. Do not continue to work if you believe you might have any broken bones. Instead, seek treatment with an authorized treating physician approved by the employer and their workers' compensation insurer.
Take Photos of the Incident
Next, pull out your phone and start taking photos of the incident. Take a picture of the items or situations that caused the slip and fall at work and save them for future reference.
You should also take pictures of any injuries you or your coworkers sustained. These will come in handy later as you're talking to the insurance company or working with a lawyer.
Notify Your Employer
As soon as you're physically able to, you should notify your employer. Give them as many details about the incident as possible, including what caused it and your symptoms and injuries.
If possible, do this over email. Getting everything in writing allows you to refer to what was said later if needed. Even if you already reported the injury to your employer in person, email them a summary of what you talked about.
Your ability to get a good initial settlement offer depends on this report. Once your employer learns of your injuries, they will begin working with their workers compensation insurance company to either cover the claim or provide you a settlement offer. This money would ideally cover all your treatments and any time you had to take off from work.
Yet, few insurance companies initially offer a satisfactory amount. Their goal is to get you to settle for the lowest amount possible, so they don't have to spend too much on you. As such, you should always be skeptical of the initial settlement offer. If you choose to not move forward with a formal claim, you need to make sure the amount covers everything you need.
Contact a Lawyer
But you shouldn't worry about not having enough money to cover your expenses. Even if the insurance company doesn't offer you a good settlement, you can choose to pursue a claim for benefits.
If you want to go this route, you need to contact an attorney as soon as possible. These claims may take months. The sooner you start, the sooner you will get to collect the money you get from your claim.
States also have statutes of limitations on how long after your injury you can open a case. In Georgia, you only have one year from the incident to file a formal claim. Check your state's local laws for more information.
To find the best lawyer for your case, do research into who practices in your area. Look into their credentials and find out how long they've practiced. Then, look at their reviews to see if other people have liked working with them.
Before you hire a workers compensation lawyer, schedule a free consultation. This will allow you to meet the attorney and figure out how strong of a claim you have. If you don't like the attorney, find another one with whom to work.
Get Copies of Your Medical Bills
When you go to the doctor for your injuries, keep copies of your medical bills.
To prevail in a slip and fall at work claim, your workers compensation attorney will need to establish that the accidental injury arose out of and in the course of your employment. To do this, they need evidence your injuries exist.  Your lawyer will look at your bills and use them as proof of your injuries.
Get the Contact Information of Any Witnesses
If someone witnessed your accident, ask them for their contact information.
Your attorney will want to interview witnesses to the incident. Having their contact information on hand will keep your lawyer from having to track them down.
If you don't have witnesses, don't worry. Your lawyer will take another route to establish that your employer is responsible for your injuries.
Get Legal Advice from Your Lawyer
You shouldn't take any legal actions without the advice of your lawyer. If your employer or their insurance company tries to get you to make any decisions regarding your claim, talk to your attorney first.
You can also ask your lawyer what you should and shouldn't do to improve your chances of winning your claim.
Had a Slip and Fall at Work?
If you've had a slip and fall at work, you've come to the right place.
Our team is here to help you. At Hollington Brown LLP, we fight on behalf of people injured at work. We'll file your claim for you and fight for your right to the proper compensation.
Want to learn more about what we can do for you? Contact us today to learn more!