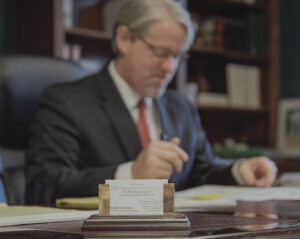 27+ years of experience representing injured workers. 
Stephen H. Brown has been named one of the top lawyers by the National Law Review and Super Lawyers.  Stephen is an active member of the Workers' Compensation Section of the State Bar.  Stephen having represented employers and insurance companies for over 15 years knows the tactics used to deny injured workers their benefits.  Above all else, you can rely on Stephen and his staff to treat you with respect and care as we help you with your workers' compensation claim.  To learn more about Stephen's background, please click the link below.
Stephen H. Brown received his undergraduate degree in 1992 from the University of North Carolina at Chapel Hill.  He, then, attended Walter F. George School of Law at Mercer University and graduated cum laude in 1996.  Stephen began practicing at Fulcher Hagler LLP in Augusta, becoming a partner in 2001.  During his time at Fulcher Hagler LLP, Stephen focused on the defense of employers and insurers in workers' compensation, general civil trial work, including malpractice defense, construction defense and domestic relations.  In 2012, Stephen joined Larry N. Hollington to focus exclusively on the representation of injured workers as a workers' compensation attorney.  In January 2013, Stephen partnered with Larry to form Hollington Brown LLP.  Stephen's 27+ years of experience insures he will protect your rights as an injured worker.
To talk with Georgia's best work injury lawyer, please call 706/868-1090 or contact us online.  Workers' compensation cases are taken on a contingency fee basis.  If we accept your case, there is no fee unless we recovery benefits for you.  We look forward to serving you as your workers' compensation attorney.